The Highest Paid Jockeys of All Time
Puerto Rico's John Velazquez recently made headlines when he became the highest paid jockey of all time, breaking the record held by retired American jockey, Pat Day. Velazquez has earned over $307 million over the course of his career, which surprised a lot of people who perhaps aren't familiar with the world of horse racing.
Here is a list of the seven highest paid jockeys in history:
1. John Velazquez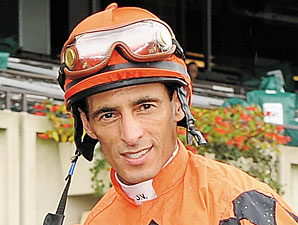 At the top of the list is John Velazquez, who became the first rider to eclipse the $300 million mark in earnings, after riding We Miss Artie to victory at the Horseshoe Casino Cincinnati Spiral Stakes. The Puerto Rico-born Velazquez is married to Leona O'Brien, the daughter of renowned trainer, Leo O'Brien.
2. Pat Day
Next on the list of the most financially-successful jockeys of all time is American jockey, Pat Day, who grossed a whopping $298 million over the course of his 32-year career. Day's first major victory came in 1976, when he rode Great Contractor to victory at the prestigious Jockey Club Gold Cup held at Belmont Raceway. During the 1970s, Day struggled with alcoholism and substance abuse issues, but in the 1980s he cleaned himself up, a feat which he attributes to his conversion to Christianity. Following complications from hip surgery, Day retired from professional horse racing in 2005.
3. Jerry Bailey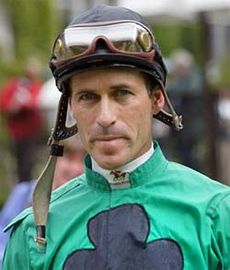 Trailing Pat Day with all-time career earnings of $295 million is Texan, Jerry Bailey.
Racing enthusiasts will remember Bailey as the jockey who raced the thoroughbred stallion, Cigar, in the 1990s. Like Day, Bailey has had his bouts with alcoholism, which he chronicled in his 2005 autobiography, Against All Odds.
4. Chris McCarron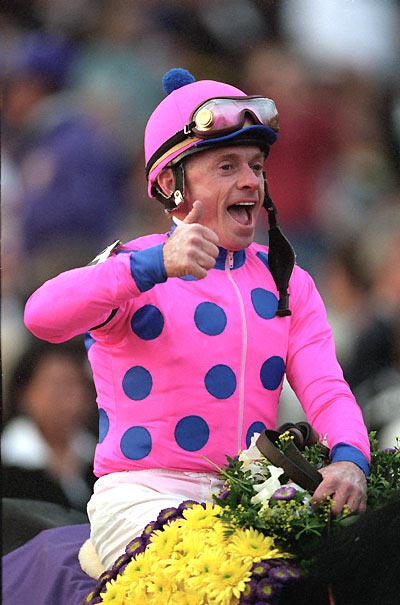 Next on the list of the highest-earning jockeys in horse racing history is Boston's Chris McCarron, who hauled in an incredible $264 million before retiring in 2002. A year after retiring, McCarron worked as a technical advisor and actor in the film, Seabiscuit.
5. Laffit A. Pincay, Jr.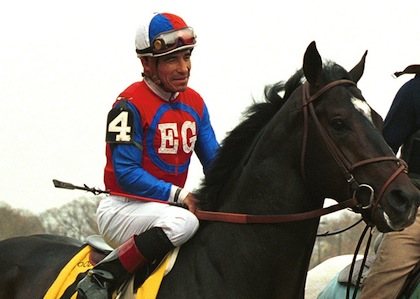 Panama-born, Laffit A, Pincay, Jr., is fifth on the list with career earnings of more than $237 million. Pincay is flat racing's all-time winningest jockey with 9,530 career first-place finishes.
6. Kent Desormeaux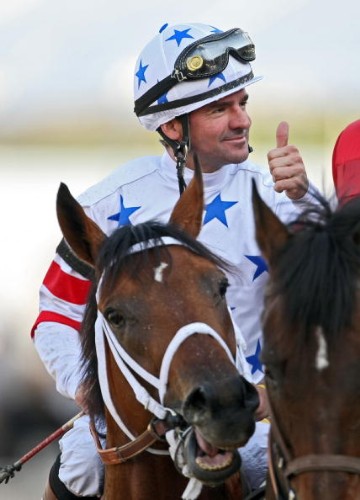 Louisiana's Kent Desormeaux comes in at sixth place on the list. Desormeaux holds the record for most victories in a year with 598 victories in 1989. Two years prior, he won the Eclipse Award for Outstanding Apprentice Jockey. Along with Steve Cauthen and Chris McCarron, Desormeaux is in the select group of jockeys who have won the prestigious Eclipse Award in both the apprentice and overall categories. Desormeaux was arrested in Saratoga in 2011, for assaulting a peace officer. He was ordered to pay a fine of $2,000 — chump change for someone who has earned over $220 million in his 28-year career.
7. Edgar S. Prado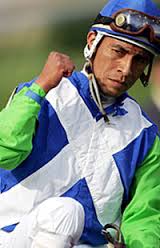 Peruvian, Edgar S. Prado is seventh on the list with nearly $220 million in earnings. However, along with Desormeaux and Velazques, he is one of three on this countdown who is not retired, and still actively racing. Prado first made a name for himself in 1997, when he became the fourth rider in history to win more than 500 races in a year.